Behind every website or software the key element is the source code. When it comes to websites, the source code can be viewed when using a broad selection of tools, even in your website browser itself.

It is more difficult to view the source on iOS and Android smartphones though. With View Page Source you can look at all the source code easily via your brower. Check Source Code Online now to see its benefits.
What is Source Code?
Source Code is the key element of a computer program. A programmer sets up the source code so it can be read and understood by another human being. When a programmer for example writes programming language statements on Windows Notepad, with a sequence of C programming statements, and the sequence is saved as a text file, this file will be said to contain source code. Programmers can use a visual programming tool, a text editor or an integrated development environment (IDE) to create source code. In larger programs there is usually a management system that helps programmers with keeping tracks of the different levels and states of the different source code files. The programming language of a website in general contains of elements as html, css and php.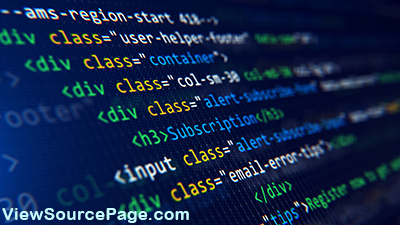 What is View Page Source?
Viewing the source code on your ipad and mobile phone can be difficult. Therefore we created the View Page Source tool. With this tool you can easily view the page source online. All internet browsers are supported. This means you can use View Page Source in browsers as Safari (on your iPhone or iOS), Android smartphone, Chrome, Firefox and many others! Check source code online, type in the search bar the link and click on the button "View Source".
The benefits of View Page Source
When there are problems with a website, it is important to understand which element of the source code is causing the trouble. The view source page tool is also interesting for educational purposes. With a html viewer online you can see how the source code exactly works. When you view the page source online, it is not advisable to copy the content for your own website. That may be against the copyright of the developer or owner of the website. When you do copy the source code, make sure you have their permission.
Try View Page Source now to see the Source Code
Interested to see what View Page Source can do for your website? Try View Page Source now to discover the different element of Source Code from your page. The View Page Source tool can be used for: checking html on your mobile, as page source reader or as page source control and page source url on the internet. When the loading is complete, all code page source will be beautified.